Doesn't matter if a game's been done - if so, just make your version even more crap.
I came. I saw. I Played.
---
I'm about half way too so another spare 20 minutes should do it lol
---
Okay, mine is done. It's about a days work.
Name: Candy Carp HD.
http://tardis.dk/retro/silly/CandyCarpHD.zip
It's a carp-al tunnel syndrome simulator....with candy.
Use the arrowkeys to control & left CTRL to fire.
I've done my very best to use profanity and implement sloppiness all around. I hope it's bad enough.
Okay, so it's not really a remake of anything in particular - just a crap idea.
...it IS a one-screen game though...it scrolls (in glorious smooth 48pixel steps)...so it's just a very very long screen.
...not that you'll probably get that far anyway because (since it's a [s]carp[/s] crap game anyway) I didn't actually do as much as I should have to make sure your fish will fit through all gaps in the scenery. Carp game, indeed.
Last edited by
Sokurah
on Thu Jan 23, 2014 2:49 pm, edited 1 time in total.
---
I think you lot breaking the rules are actually really getting into the spirit of it!

You've made an arse of it which is the point lol
---
Team RR
Posts: 659
Joined: Mon Jan 06, 2014 6:42 am
Location: West Yorkshire
Contact:
I've only got a logo and basic idea so far. I don't think my game will last long online though. LOL
---
That's the best name and logo of any game I've ever seen. Let's hope the game is 110% pure crap to top it all off
I came. I saw. I Played.
---
Oh, here's my logo btw;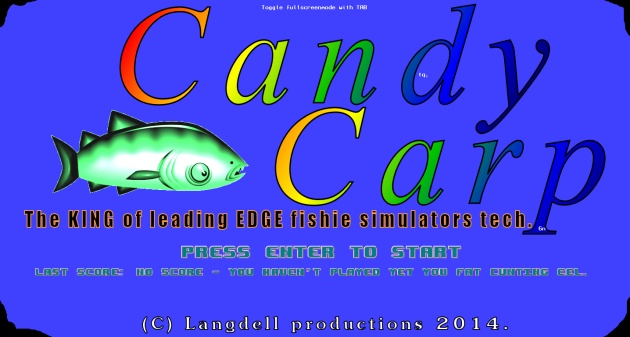 ---
Now that is good too. Too good.
But some people are spending way too much time on this, methinks!
I came. I saw. I Played.
---
Remakenaut
Posts: 37
Joined: Thu Jan 09, 2014 8:37 pm
Location: Hull.United Kingdom
Contact:
Can I enter twice? I am sure I can be crapper honest...
Have a better one, or two or maybe even three y'all...
---
Team RR
Posts: 324
Joined: Mon Jan 06, 2014 3:57 pm
Location: My head
Contact:
saulc12 wrote:Can I enter twice?
Of course!
---
Who is online
Users browsing this forum: No registered users and 1 guest